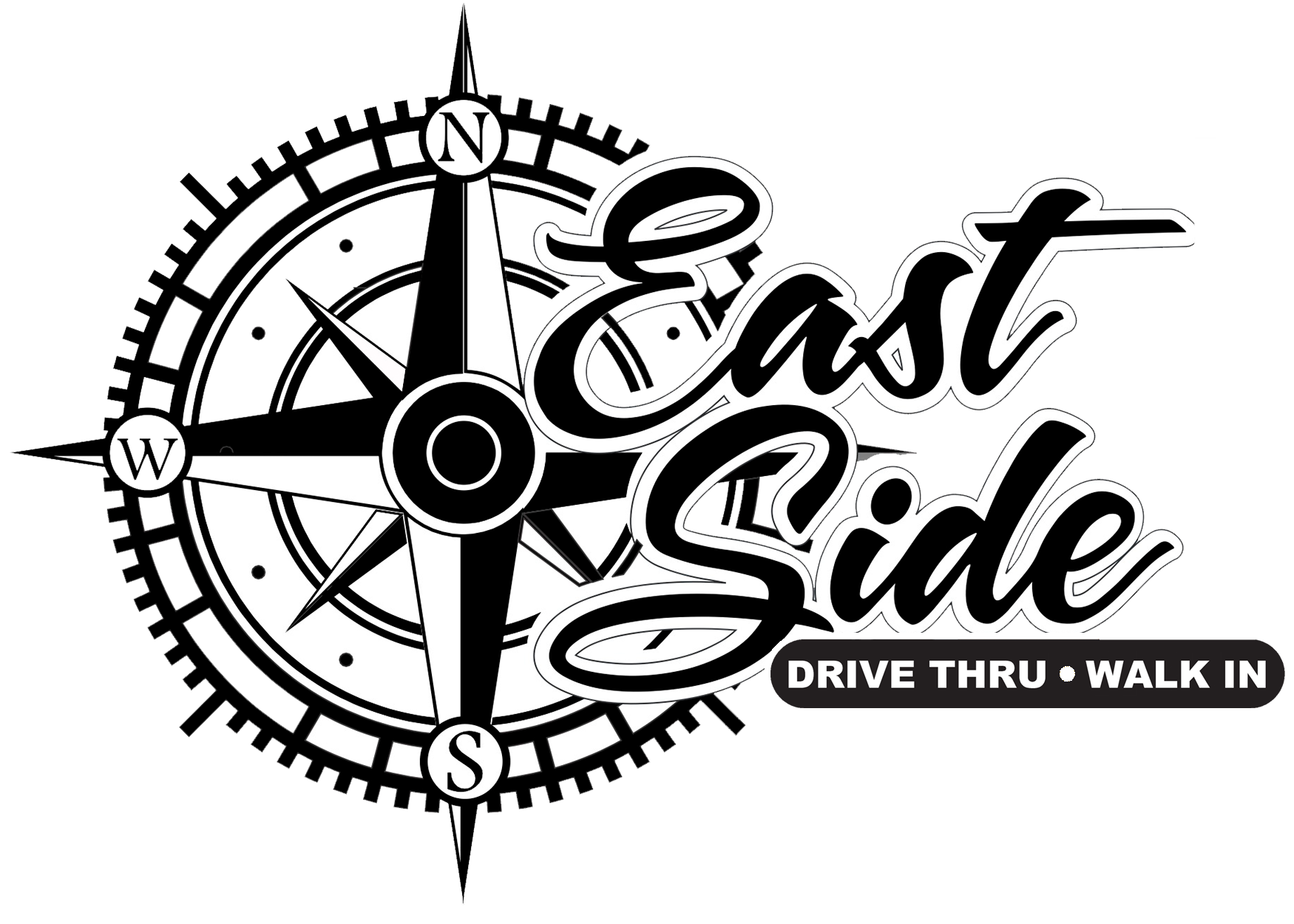 About Us
The East Side Experience
Famous for our daiquiris— that's only one piece of The East Side Experience. At our locations you'll find a gorgeous bar, live music, and cheerful bartenders. Indoor-outdoor seating, a patio, a balcony, and a modern industrial vibe. Hungry? Try our new sports bar-type menu. Whether you are looking for an after-work spot, a date night scene or even your caterer, we have a location to match everyones needs. 
Open daily at Noon, Drive-Thru Or Walk-in, FULL BAR, Over 200 Daiquiri flavors, a wide variety of mixed drinks, and food!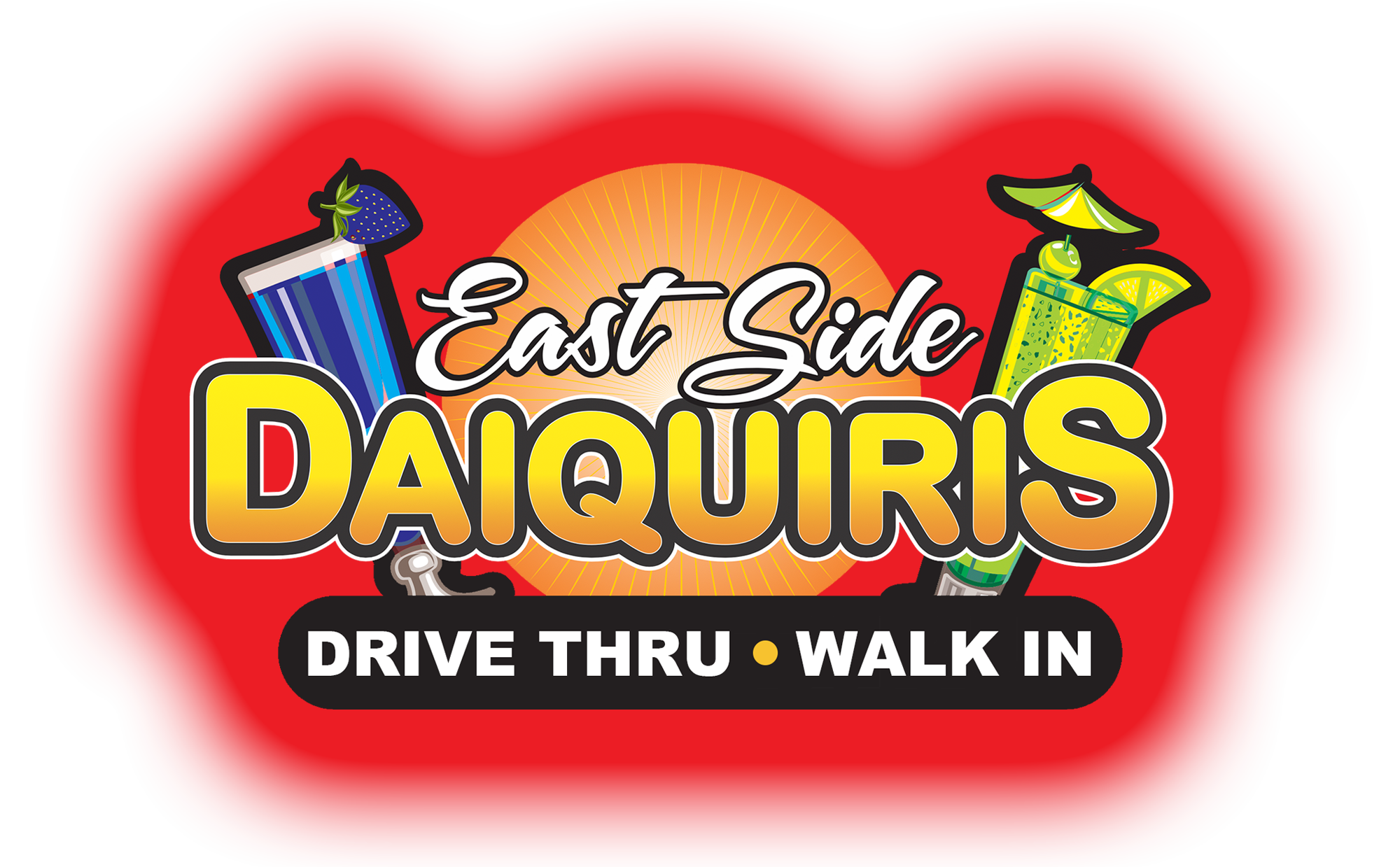 Specials & Events
Every month we will have live music events and drink specials! Check out this months calender and our specials menu below.
Our Drinks
Known for our 200 different daiquiris flavors we have a menu like no other. Browse our daiquiri flavor menu below and stop by one of our locations!
Daiquiri Menu
ALABAMA SLAMMER
ALMOND JOY
AMARETTO SOUR
ARNOLD PALMER
BAHAMA MOMMA
BANANA
BANANA SPLIT
BERRY-LICIOUS
BIRTHDAY CAKE
BLACKBERRY COLADA
BLACKBERRY LEMONADE
BLACKBERRY LONG ISLAND ICE TEA
BLACKBERRY MARGARITA
BLUE BANANA
BLUE CACTUS
BLUE MARGARITA
BLUEBERRY COLADA
BLUEBERRY LEMONADE
BLUEBERRY MARGARITA
BLUEBERRY SHORTCAKE
BOB MARLEY
BOOM BOOM POW
BORA BORA
BOURBON BALLER
BUTTERY NIPPLE
CARAMEL APPLE
CARAMEL FRAP'
CARIBBEAN FROST
CASEY'S COOL-AID
CHERRY LIMEADE
CHOCOLATE RUSSIAN
COLORADO BULLDOG
CREOLE EGGNOG (SEASONAL)
DOGGIE STYLE
DREAM WEAVER
DWI
ELECTRIC LEMONADE
FUZZY NAVEL
FUZZY STRAWBERRY KIWI
FUZZY STRAWBERRY LEMONADE
GEORGIA PEACH
HONEY DEW COLADA
HONEY SPANK ME
HURRICANE
HURRICANE RITA
HYPNOTIC
ITALIAN MARGARITA
JET FUEL
JOLLY RANCHER
JUNGLE JUICE
KING KONG
LIQUID MARIJUANA
LONG ISLAND ICED TEA
MAKE IT NASTY
MANGO MARGARITA
MARDI GRAS MAMBO / KING CAKE
MARGARITA
MANGO FREEZE
MOCHA FRAP'
MOLLY WATER
MOMMA K'S CAKE BATTER
MOSCATO FREEZE
MUDSLIDE
OCTANE 190
PANTY REMOVER
PARADISE PUNCH
PEACH BILLINI
PEACH BIKINI
PEACH COLADA
PEACHES AND CREAM
PEPPERMINT MOCHA FRAP'
PINA COLADA
PINEAPPLE FREEZE
PINK LEMONADE
PINK PANTHER
PLUMB DUMB
POP DAT CHERRY
PUCKER UP
PURPLE RAIN
PURPLE STUFF
RAGING BULL
RASPBERRY COLADA
RASPBERRY MARGARITA
RED RUSSIAN ROOT BEER FLOAT
SALTED CARAMEL FRAP'
SAMOA COOKIE
SANGRIA MARGARITA
SCREW DRIVER
SEX IN THE DRIVEWAY
SEX ON THE BEACH
SKITTLES
SLOW SCREW
SOUR APPLE
SOUR APPLE FREEZE
SOUTH BEACH
STARBURST
STRAWBERRY
STRAWBERRY BLUNT
STRAWBERRY CHEESECAKE
STRAWBERRY COLADA
STRAWBERRY KIWI LEMONADE
STRAWBERRY KIWI MARGARITA
STRAWBERRY LEMON COLADA
STRAWBERRY MANGO
STRAWBERRY MARGARITA
STRAWBERRY SHORTCAKE
SUGAR RUSH
SUMMER BREEZE
SUMMER FREEZE
SWEET TART
TEQUILA SUNRISE
TEXAS CYCLONE
THE DREW BREES
THE JAMAICAN
THIN MINT
THREE STRIKES
TIGER BAIT
TOM COLLINS
TORNADO TWISTER
TROPICAL COLADA
VICTORIA'S SECRET
VODKA FREEZE
WATERMELON MARGARITA
WEDDING CAKE
WHISKEY SOUR
WHITE RUSSIAN
WHO DAT
WHOOP ASS WATERMELON

Bands & Booking
Are you interested in playing at one of our locations? Click the button below and apply on our Bookings Page today.
What People are saying
Our Reviews
Visit Us Today
Our Locations
Main Location
2660 HWY 28 East, Pineville, LA 71360
3rd Street
3311 3rd St, Alexandria, LA 71302
Mid-City (Coming Soon)
2204 Worley Dr, Alexandria, LA 71301